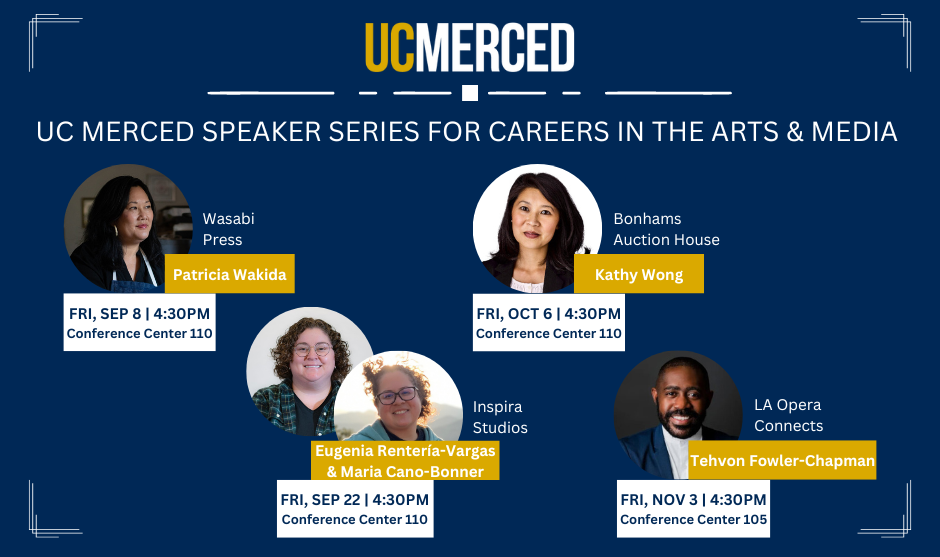 The UC Merced Speaker Series for Careers in the Arts & Media brings to UC Merced a diverse group of arts professionals to share with our students their rich experiences, career paths, and life lessons. Each speaker will give a 40-minute presentation on their professional paths, exciting projects, and challenges, to be followed by a 30-minute Q&A. We hope to inspire and encourage our students to explore more varied and expansive career possibilities and opportunities.
The Coats Speaker Series is sponsored by the Coats Family Chair in the Arts and co-hosted by the School of Social Sciences, Humanities & Arts and UC Merced Arts.
For more information, contact Kim McMillon, Community Liaison for the Arts and Humanities: kmcmillon@ucmerced.edu
---
Fall 2023
---
Friday, September 8, 2023
4:30 - 6:00 p.m. PDT
Conference Center Room 110, UC Merced
Patricia Miye Wakida is an Oakland-based artist, writer, historian, illustrator, linoleum block carver, and letterpress printer. She has worked with numerous cultural institutions such as the Japanese American National Museum, the Oakland Museum of California, the National Japanese American Historical Society, Topaz Museum, Discover Nikkei, and Heyday Books. She serves on numerous non-profit boards. She has edited two publications on the Japanese American experience, Only What We Could Carry: The Japanese American Internment Experience and Unfinished Message: the collected works of Toshio Mori. At the heart of Patricia Wakida's practice is a deep respect for the power of storytelling, both in its visual and literary forms. She is equal parts hands-on artist and historian, working in community engagement, printmaking, and publishing, emphasizing traditional art practices, myths, and ancestral power. She is a Yonsei whose parents were incarcerated as children in the Jerome and Gila River concentration camps.
Click here for more information and to RSVP.
---
Friday, September 22, 2023
4:30 - 6:00 p.m. PDT
Conference Center Room 110, UC Merced
Eugenia Renteria is a filmmaker and educator. Born and raised in a rural community in Zacatecas, Mexico, she moved to California when she was 12 years old. She attended CSU Monterey Bay and graduated with a B.A. in Cinematic Arts & Technology. Eugenia wrote and directed Amor en Cuarentena, Strawberry Picker, and the award-winning documentary Tierra Fértil, which premiered at Mexico City's Cineteca Nacional and was later broadcasted at Mexico's Canal 22. Her work has been showcased at San Diego Latino Film Festival, San Francisco Latino Film Festival, Official Latino, and ShortsMexico. She was an inaugural fellow for the Watsonville Film Festival's Cine Se Puede Fellowship and is a PBS Ignite Mentorship Program mentee. Eugenia is the co-founder and owner of Inspira Studios.
Maria Bonner is a filmmaker and educator, born and raised in Jalisco, Mexico. She moved to California in 2003. Maria's work has been featured at the Crocker Art Museum, La Mujer Art Show, Good Day Sacramento, and the Watsonville Film Festival. Maria graduated from the Art Institute of California-Sacramento with a Bachelors of Science in Digital Film and Video Production. Through filmmaking, Maria wants to shine a light to her community's stories as well as their struggles.
Click here for more information and to RSVP.
---
Friday, October 6, 2023
4:30 - 6:00 p.m. PDT
Conference Center Room 110, UC Merced
On Friday, October 6, 2023, Kathy Wong, the Director of Business Development, Fine Arts at Bonham, based in Los Angeles, is our key speaker at the Coats Speaker Series on Careers in the Arts & Media. Her talk will occur at the Conference Center, Room 110, at 4:30 pm at UC Merced. She provides sales advisory and develops consignment opportunities for the Fine Arts departments on the West Coast. Since 2004, Kathy has worked as a Specialist at the international and regional auction levels on the East and West coasts, including Bonhams' recent acquisition, Skinner. She joined Bonhams in 2015 and has been a Specialist and Cataloguer in Impressionist and Modern Art, California Art, American Art, and Western Art.
Click here for more information and to RSVP.
---
Friday, November 3, 2023
4:30 - 6:00 p.m. PDT
Conference Center Room 105, UC Merced
On Friday, November 3, at 4:30 pm, Tehvon Fowler-Chapman, the new Vice President of Connects at the LA Opera, will discuss his music and arts management work at UC Merced's Conference Center, Room 105. This event is free to the public. Fowler-Chapman most recently served as the Debbie Allen Dance Academy Executive Director in Los Angeles. Previously, he was the Executive Director of the Washington Concert Opera in Washington, D.C.