William Poulson - Yosemite Murals
On display since Spring 2016
KL380, North Window
William Poulson's stained glass murals of Yosemite are the culmination of many years of drawing, design, fine craftsmanship, and inspiration from the extraordinary beauty of the Yosemite Valley, the words of John Muir, and the paintings of artist Albert Bierstadt. Poulson was born in Oakland, CA and grew up in Castro Valley. He left college in 1962 to become a journeyman carpenter and worked in the building trade for over 20 years. In 1987, Poulson established his studio and gallery in Arnold, CA. His unique glass creations are on display in homes, churches and hotels throughout the world. Poulson's desire to capture the beauty of the Yosemite Valley inspired him to conceive the Four Seasons of Yosemite Mural Project. He is presently working on the summer mural.
Tissiack, the Ahwahneechee name for Half Dome, is a stunning depiction of Yosemite National Park in the fall. The mural, which stands over 8' wide by 14' tall, was completed in 1989 after two full years of design and construction. Poulson created the mural with over 2200 pieces of glass following a traditional method utilizing leaded glass and copper foil, with steel reinforcement. Tissiack was previously on display in Yosemite at the Ahwahnee Hotel, now The Majestic Yosemite Hotel, and the Yosemite Visitors Center.
The Chief, completed in 2008, is done in the same method of leaded glass and copper foil, reinforced with steel, and also incorporates over 2200 glass pieces. The Chief depicts a winter scene with a full moon over the Cathedral Rocks, and on the other side of the snow covered valley, El Capitan.
Spring depicts a bright, colorful scene of a rushing stream and waterfalls against the cliff, sky, and trees of the Yosemite Valley. Blooming flowers and a bear and her cub are indicative of the new life that can be seen each year as spring comes again.
From Poulsons's website:
"On a sentimental journey through California, Bill spent three months camped in Yosemite and sketching from different viewpoints of the valley and its surrounding granite cliffs. From those sketches, he designed and built the first mural, 8' 3"  X 14' 3", showing  Half Dome in the Fall, bathed in the golden evening sunlight.  The Fall Mural, titled "Tissiack" ( the Ahwahneechee Native Americans' name for the Half Dome) took 2 years to complete and was on display at the Ahwahnee Hotel in 1989, and at the visitor's center in Yosemite in 1990 for the Centennial Celebration."
View the stained glass murals here:
Autumn
"Tissiack"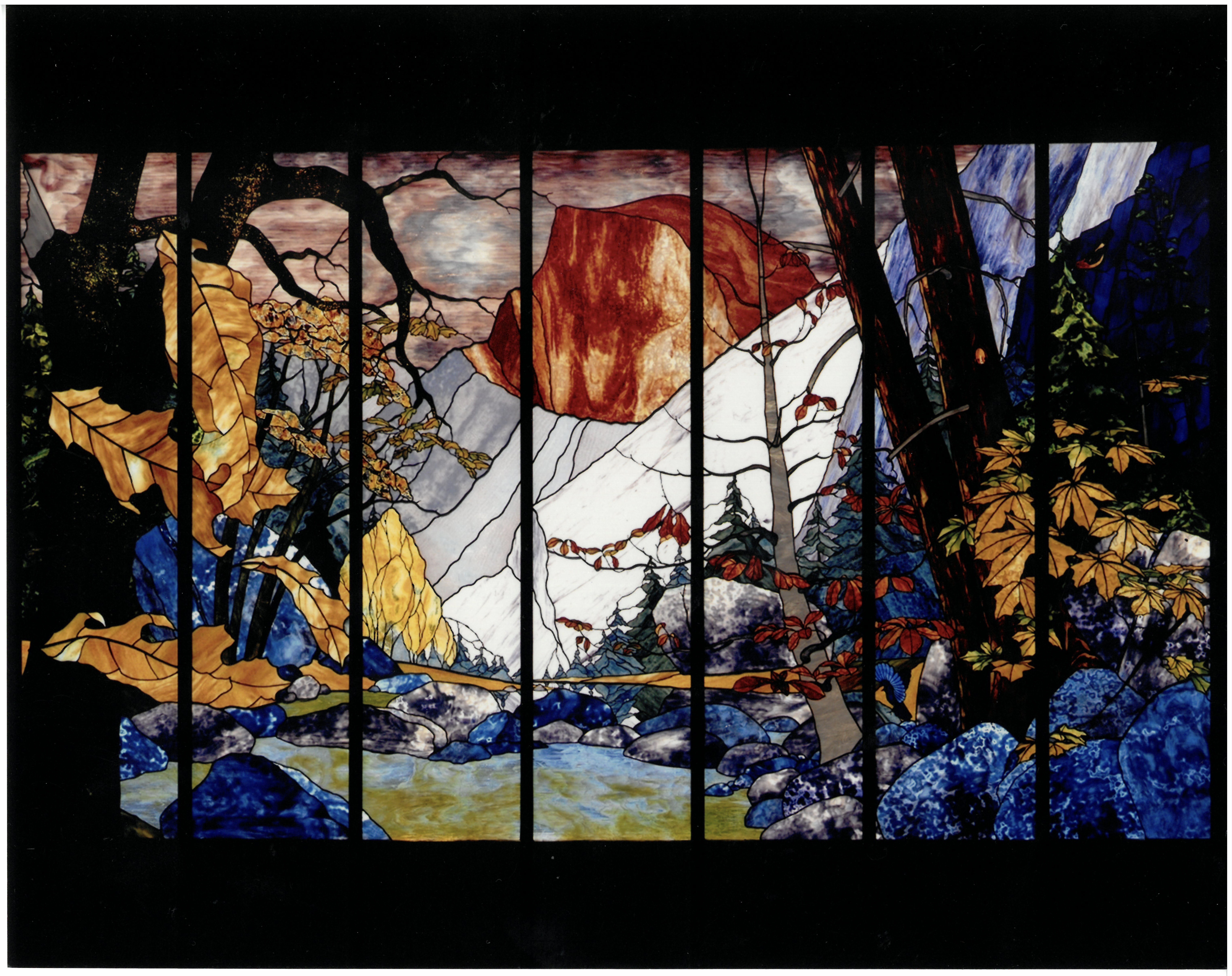 Winter
"The Chief"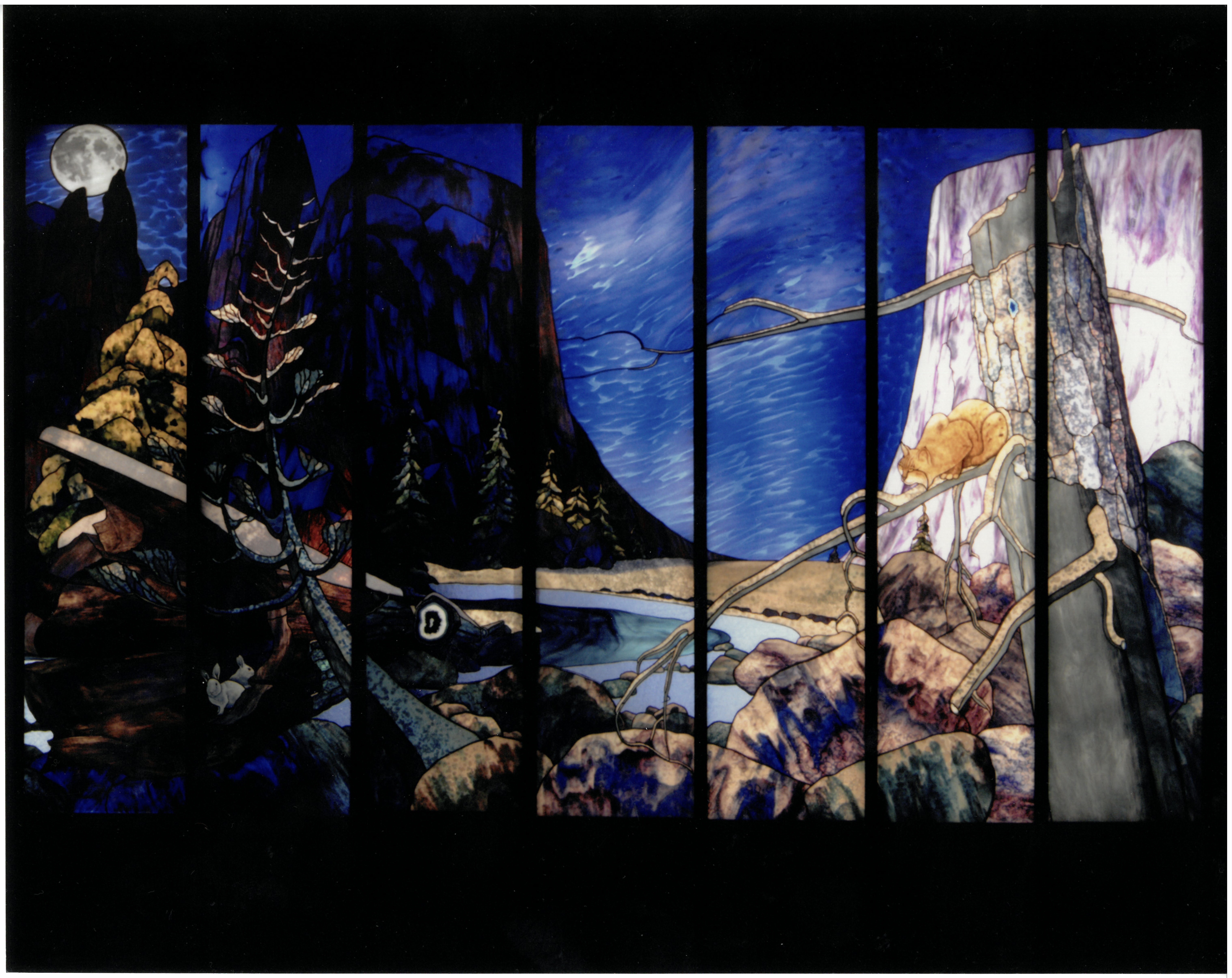 Spring
"Spring"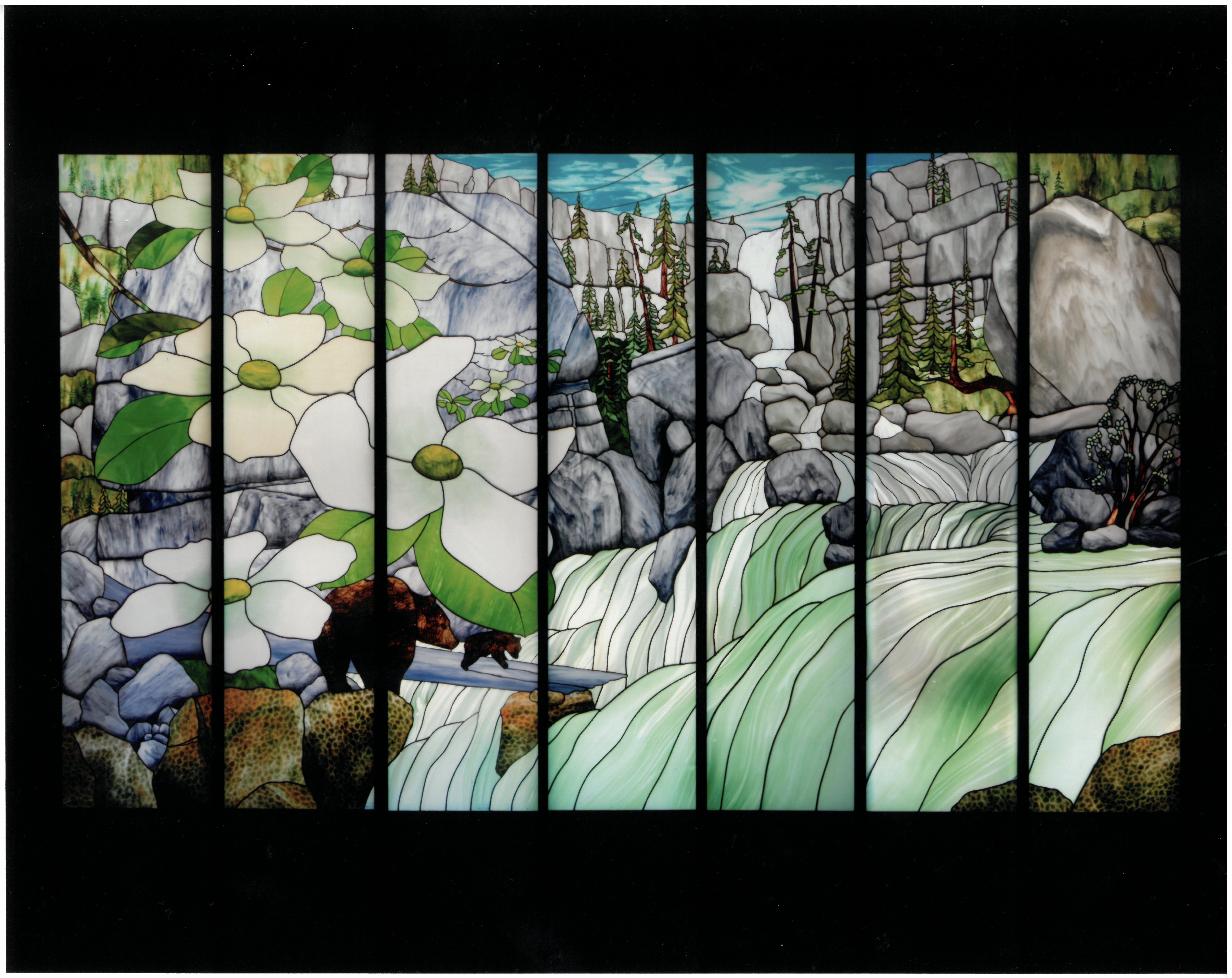 Summer coming soon
To find out more about WIlliam Poulson and Bobbette Budworth, please visit www.williampoulson.com