Merced Symphony Serenading Strings Concert

Merced Symphony Serenading Strings Concert
November 10 at 7:30pm
The Art Kamangar Center @ the Merced Theatre
301 W. Main Street, Merced, CA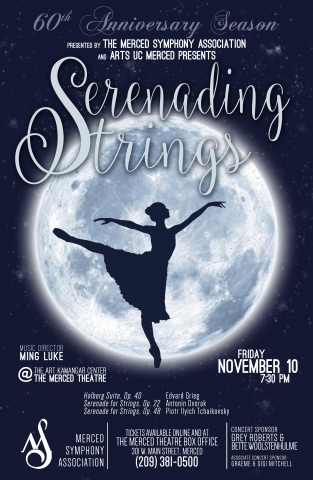 In celebration of fall, the Merced Symphony Association and Arts UC Merced Presents are excited to showcase the string orchestra's multitude of coloristic possibilities. Serenading Strings, the second concert of the MSA's 60th Anniversary Season, takes place on Friday, November 10th at 7:30pm at the Art Kamangar Center @ the Merced Theatre (301 W. Main Street).
The concert opens with the Norwegian fiddling of the Grieg Holberg Suite and continues to the sweet lyricism of Dvorak's Serenade. The concert ends with the passionate and rich Serenade for Strings by Tchaikovsky. The composer himself stated that he composed the Serenade "from inner conviction," and that "it is a heartfelt piece and so, I dare to think, is not lacking in real qualities."
This year the MSA is proud to announce tiered ticketing in an effort to make our concerts accessible to even more live music lovers. Adult tickets are available for $25, $35, or $45; tickets for students/children are $15. Tickets can be purchased at the Merced Theatre Box Office at 301 W. Main Street. Season Ticket buyers earn additional discounts; more information is available on the website: www.mercedsymphony.org You can also follow us on Instagram @ mercedsymphony.
Date
November 10, 2017 - 7:30pm
Location
The Art Kamangar Center @ The Merced Theatre (301 W. Main Street)
Title
Lecturer, Global Arts Studies Program