Kaumakaiwa Kanaka'ole with Shawn Pimental, In Concert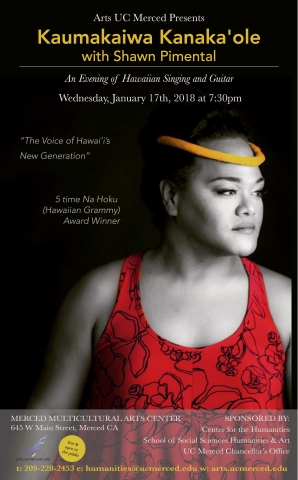 Kaumakaiwa Kanaka'ole with Shawn Pimental
An Evening of Hawaiian Singing and Guitar
Wednesday, January 17th, 2018
Merced Multicultural Arts Center
645 W. Main Street, Merced, CA
Celebrate the beginning of a new semester with a free concert by award-winning singer Kaumakaiwa Kanaka'ole and guitarist Shawn Pimental!
Kaumakaiwa brings to the stage an immense talent as a singer, chanter, and dancer as well as a deep understanding of her Hawaiian culture and her place as a modern, transgender (mahu wahine) Hawaiian in this contemporary world.
She seamlessly melds Hawaiian culture and modern sensibilities, with songs that draw from ancient 'oli (chant) traditions, contemporary melodies, and original mele (lyrics), in deeply powerful music. With plenty of humor, she often provides wry commentary and stories to give context to her songs.
Doors open at 7pm; Concert starts at 7:30pm. Free and open to the public.
Sponsored by Arts UC Merced Presents, Center for the Humanities, School of Social Sciences, Humanities & Arts, and UC Merced Chancellor's Office
Tel: (209) 228-2453
Email: humanities@ucmerced.edu
Date
January 17, 2018 - 7:30pm
Location
Merced Multicultural Arts Center (645 W. Main Street, Merced, CA)