The Vagina Monologues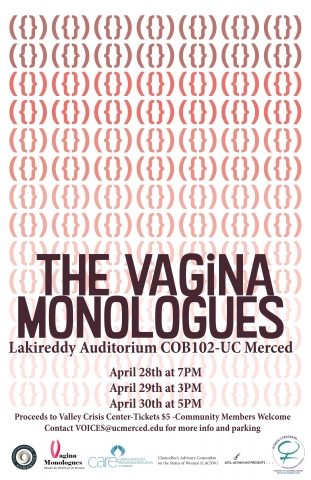 The Vagina Monologues
April 28 at 7pm; April 29 at 3pm; and April 30 at 5pm
Lakireddy Auditorium (COB 102), UC Merced
5200 N. Lake Road
UC Merced's VOICES club has the pleasure of hosting Eve Ensler's The Vagina Monologues.
Performed in over 30 countries and in multiple languages, the Monologues are based off of interviews with a diverse group of women ranging from hilarious sexual encounters, to empowering realizations, to emotional stories of survival. The Production features a multilingual cast of UC Merced students and also serves as a fundraiser for Merced's Valley Crisis Center, which provides support for those effected by sexual assault, domestic violence, and stalking in Merced County. This event is sponsored by the UC Merced CARE Office, Center for the Humanities, Arts UC Merced Presents, Women's Programs in the Office of Student Life and the Chancellor's Advisory Committee on the Status of Women (CACSW). 
The play is only $5! Buy your ticket now by coming to the CARE Office in KL 107 or by contacting Taylor Fugere.
Off Campus faculty and staff as well as community members are encouraged to purchase their tickets via this link: https://intelforms.ucmerced.edu/Form/Vagina_Monologue
Date
April 28, 2017 - 7:00pm
to
April 30, 2017 - 5:00pm