Olga Diego, Jellyfish Tank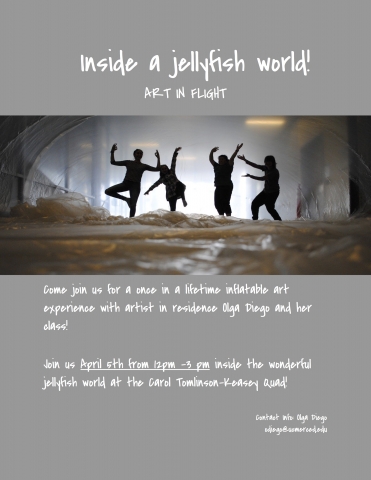 Olga Diego, Artist-in-Residence
Jellyfish Tank
Wednesday, April 5 from 12-3pm
Carol Tomlinson-Keasey Quad
UC Merced
 
A new experiment on flying, inflatables, and flotation has been created in the course "Art in Flight" given by
Artist-in-Residence Olga Diego at UC Merced.
An interactive and sensory proposal where everyone is invited to participate.
An idea created by students Perla Cerna, Mary Lis, Daniela Portillo, and Professor Olga Diego.
Date
April 5, 2017 -

12:00pm

to

3:00pm
Location
Carol Tomlinson-Keasey Quad