UC Merced Children's Opera Presents - Baobob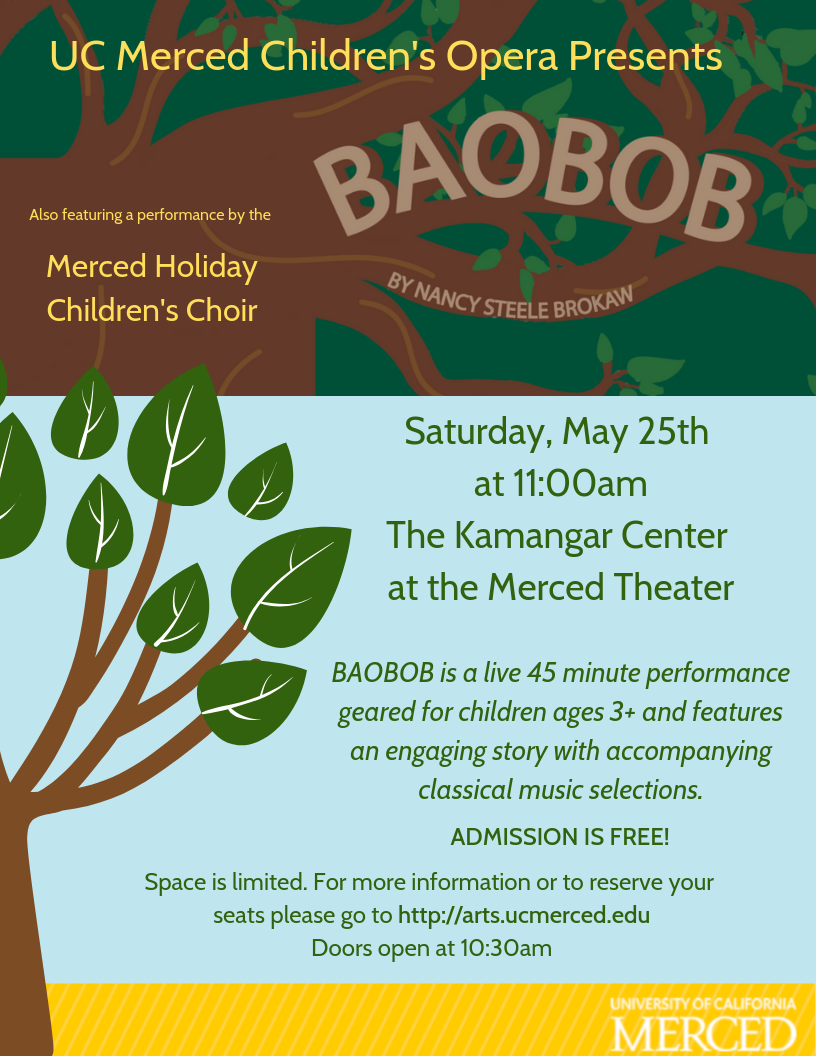 Join us for the ninth season of the UC Merced Children's Opera.  This year we have a very special performance in store for our audience both young and old.  Baobob is a funny but heartfelt opera features short selections from classical music repertoire presented in a way children love. Baobob looks at how we value natural resources and things that grow.
Baobob, a giant lone tree, has anchored the peaceful island kingdom of La Bella Luna for thousands of years. But now Baobab's very existence is threatened when fortune hunter, Dubuque La Crosse, sails in with a treasure map, the first clue to the puzzle, and a gleam in his eye. After misinterpreting the puzzle, Dubuque rushes to cut down the sacred and ancient Baobob tree. Who can thwart his vile plan?
Papaya and Olive are the last descendants of the Ancient Order of Tree Keepers but they don't seem up for the task. And what about Dubuque's sidekick Smoot–will he go with the darkness or see the light filtering through the branches? Is an ancient tree even worth fighting for? With the help of the audience, this 40-minute musical romp comes to a riotous, operatic conclusion. Along the way, and with the audience's help, everyone learns that it helps to be prepared, it's good to be brave, and trees are magnifique! .
This year's Children's Opera is directed and produced by UC Merced's own Jenni Samuelson and supported by UC Merced Arts Presents and the UC Merced Office of the Chancellor.